TUESDAY 29th
Swedish Minister of Sports visits the Island Games


The Swedish Minister of Sports Ulrica Messing today visited the NatWest Island Games on Gotland. Mrs Messing met the Organising Committe of the Gotland Island Games and the Chairman of the Island Games Asssociaton, Alan Cross.

17 islands have won medals. St Helena won a bronze medal in Shooting Rifle by Simon Henry. Yesterday Falkland Islands won their first Gold Medal ever in the Island Games in the Shooting event Blackpowder.


MONDAY
Gotland Gold Fever

SUNDAY:
The first Gold for Cayman Islands

SATURDAY:
The Opening Ceremony

The official homepage: NatWest Island Games 1999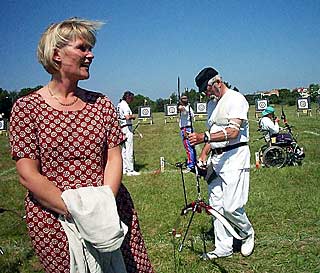 Swedish Minister of Sports Ulrica Messing visits
the windy Archery event at Oskarsstenen in Visby.
During the day she also visited the Volleyball
arena and the Basketball at Södervärnshallen.
Ulrica is very interested in sports and she thinks
that sports bring people together.
In her youth she played the wintersport bandy in Hällefors.